Despite representing nearly 20% of the Australian population, people with disabilities are severely underrepresented in the workforce and face numerous barriers to employment.
This year, People Solutions undertook a research project to examine the challenges that organisations face in employing people with disabilities, the gaps between best practice and actual practice among organisations in Western Australia, and what can be done to improve these practices. We conducted surveys and face-to-face interviews with 55 organisations from a range of industries and sectors, representing over 120,000 employees. We also obtained best practice recommendations from Disability Employment Service providers, academic literature, and other subject matter experts.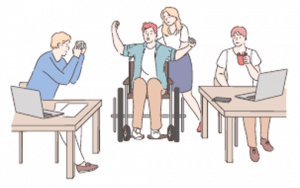 What were organisations doing well?
Generally, there was an overall desire to better support candidates and employees with disabilities and improve recruitment practices in this area. However, there was a lack of knowledge around how to do this and the appropriate steps to take.
Some things that most organisations were already doing well included:
Providing diversity training as part of their staff learning and development programs
Offering flexible work practices
Generally following best practice for selection in general
Making accommodations as requested and if possible
Two organisations we spoke with also ran very successful internship programs for neurodiverse university students.
Where were the gaps?
A number of key gaps were identified:
Very few organisations had done the groundwork necessary to set the stage for successfully implementing disability recruitment initiatives. Only 15% had specific disability-related employment policies, only 17% had set hiring targets for people with disabilities, and very few collected and monitored data on disability status.
Most organisations did nothing to specifically attract candidates with disabilities or to make their recruitment process accessible and attractive to these candidates. The attraction strategies that were most often implemented targeted diversity in general, rather than being disability specific.
Most organisations used standard recruitment practices for all candidates, rather than adjusting them to be fairer and more unbiased toward candidates with disability. Very few sought to identify barriers to entry or progress in their selection processes or monitored candidates to identify drop-out points.
Organisations were more comfortable and had more experience with making accommodations for candidates with physical disabilities than cognitive disabilities. 
What needs to be done?
For organisations wishing to improve their recruitment practices and increase the diversity of their workforce, we provide the following recommendations (see full white paper for more detail):
Start at the beginning and invest time into establishing policies, hiring targets, and support from senior managers to establish a sound foundation for successful initiatives.
Be willing to try something new and step away from traditional selection practices in order to make the process more accessible, fair, and unbiased towards candidates with disabilities.
Partner with Disability Employment Service providers for support with accessing suitable candidates, obtaining training and resources, and assisting both hiring managers and candidates through the selection process.
Embrace neurodiversity and leverage the unique skills of people who think differently to give your organisation a competitive edge.
For further information, you can download our White Paper here.
This White Paper presents the full results of our study, as well as detailed recommendations for best practice around setting the stage, becoming an attractive employer, improving selection practices, and recruiting for neurodiversity. You can also download the two page infographic from the white paper here.