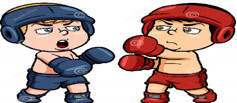 Organisations big and small are using psychometric testing to select the right candidate, paying off in the long term with less turnover, more engagement and ultimately a better employee job and culture fit.
So now we enter the issue of Supervised vs Unsupervised – let's put them in the ring together and see who wins…..
In the ring today we have supervised testing in the blue corner and unsupervised testing in the red corner
A set date and time is booked for supervised testing, giving the client an expected time for results to be received
A deadline for completion is given to the candidate.  However it is up to them to choose a convenient time to work through the tests.  There is less certainty about when the results will be received and whether they will fit into the client's deadlines
Tests are completed under controlled circumstances, with a test administrator available for queries and questions, giving the candidate piece of mind that there is someone there to help.
Candidates are responsible for the circumstances they test in.  They need to ensure a quiet environment with as few disruptions as possible.  They are responsible for creating the optimum conditions, which sometimes can be out of their control
The computers provided are compatible with the variety of test systems offered, creating a smooth trouble free environment for the candidate to test in
Not all computers are compatible with the test systems we use.  While every effort is made by our provider to keep the system up to date, some candidates may experience technical difficulties that are outside our control

Looks like we could have a winner in the blue corner with supervised testing, or do we?
Occasionally even with out of office and weekend test appointments, it is not possible to get the candidate into the office with a fast enough turnaround for the client
The candidate can complete the testing as soon as possible, without having to make the time to attend a test appointment, and can stagger the completion of the tests to suit them
Supervised testing can be offered around Australia at one of People Solutions affiliated test centres, giving more candidates the option to test in a controlled environment with trained staff to assist.
If the candidate is located remotely and is not close to our office, or one of our affiliated test centres, online unsupervised can sometimes be the only option
I think we could have a Winner in the blue corner with Supervised testing
We could be slightly biased as we see the positive responses from speaking to a very nervous candidate on the phone, meeting that very nervous candidate in the office, then seeing them relax into the testing.  Sometimes they even leave with a smile on their face!!
If you feel like you're getting knocked about the ring and are not sure how to organise Psychometric testing for your candidate, we are in your corner to help