Accelerating Individual & Team Engagement & Performance
Our highly experienced business psychologists are here to support and accelerate the development of the people in your organisation. By empowering your people to reach their full potential in line with your strategic direction, you'll be able to increase business performance, achieve organisational objectives and supercharge business growth.
We formulate organisational development solutions based on diagnostic data to tailor our strategies to your specific requirements. While we take a 'people-first' approach, everything we do is grounded in business psychology methodologies, with an emphasis on generating quantifiable improvements and ROI.
Speak to our consultants today to supercharge your performance.
People Solutions unique value proposition is the overlap between the following 3 areas:
1. Our understanding of the Western Australian market, particularly the challenges and opportunities typically faced in this vast and remote state.
2. Our training and experience in organisational psychology and our understanding of these related principles and theories and how they apply practically to the workplace.
3. Our specific expertise and knowledge in the development of, use, and application of valid and reliable diagnostics.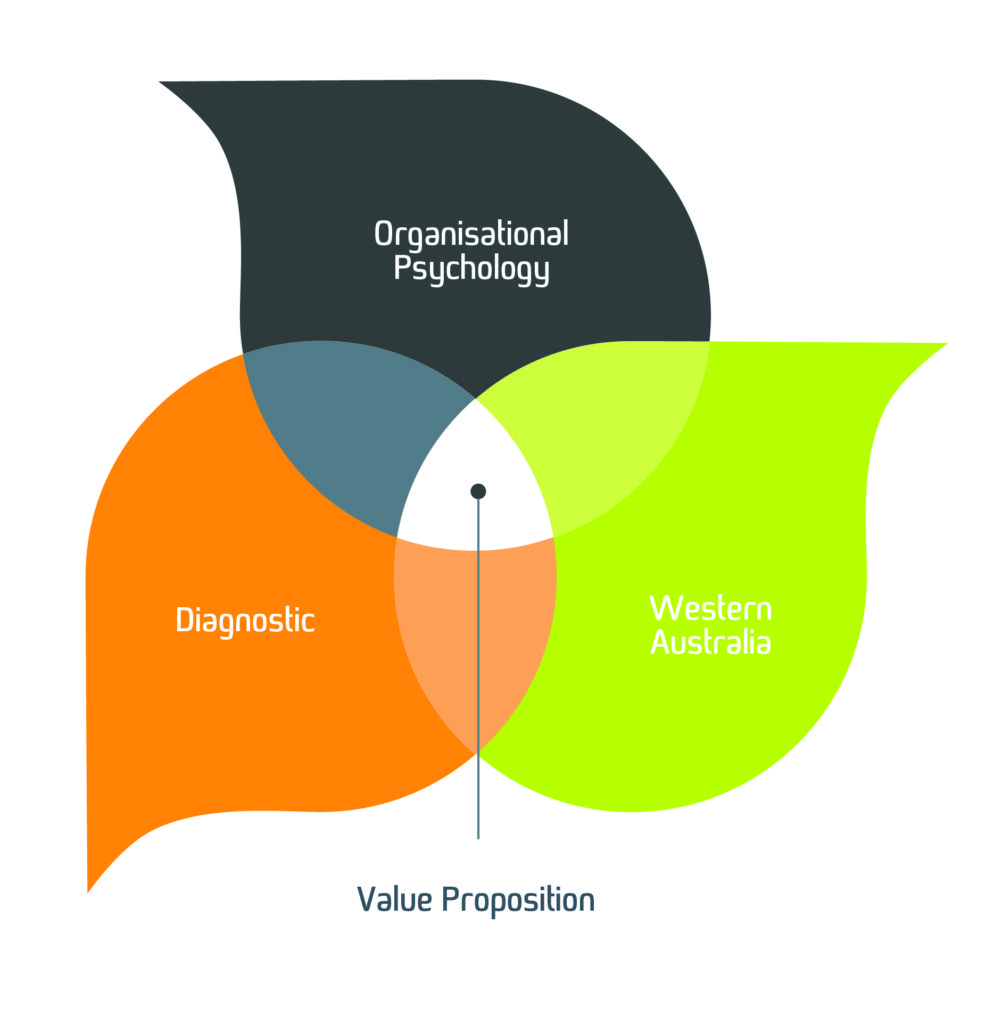 People-First Approach: Coaching & Development
At People Solutions, our primary concern is ensuring your organisation is functioning at maximum efficiency in alignment with your core goals and values. We achieve this through our people-first approach that analyses behavioural and cultural practices to gain insights into your organisational strengths versus areas in need of improvement. Our expert consultants focus on developing your team members at both an individual and group level to support your overarching business strategies and objectives.
Benefits of People-Focused Development
There are so many ways in which our organisational development consulting services can help your business enact positive change and fast-track desired results. From modifying behaviours and attitudes, to improving communication and increasing productivity, we can assist your organisation in making specific improvements in key areas. We can investigate issues such as high turnover and low morale to identify the cause and devise a strategic solution. Our capabilities extend to providing your people with greater understanding of themselves, team and how that aligns with the organisational expectations, and it doesn't end there. We customise our services to each organisation to provide targeted, development specific solutions for your business.
Learn More About Our Consulting Capabilities:
Industry Leading Diagnostics
We use psychological assessments, including 360-degree assessments, to obtain diagnostic data and gain valuable insight into the people in your organisation. By analysing this information, our experts are able to tailor organisational development solutions to your business and people. Our team of psychologists are also able to implement other data collection methodologies such as surveys, interviews and focus groups, and have access to the latest, validated assessments.
Personality, motivational, and safety leadership assessments
MSCEIT and EQi Emotional intelligence assessments
360 Assessments – Saville, Hogan and SHL
Career Path Appreciation
MBTI and DISC
Team effectiveness profile (based on Hackman's model)
Individual Coaching & Development
People Solutions deliver professional coaching sessions designed to develop and improve performance. Our consultants will work in line with specific business objectives to ensure individual development remains aligned with the wider organisation. We take a hands-on approach in our coaching sessions, empowering team members to modify behaviours through action-based learning. We specialise in the areas of career resilience and management, as well as retirement coaching.
Team Coaching & Development
Our people-first approach aims to understand motivations and behaviours of individuals, the team and the wider organisation and target behavioural and cultural change at a team level. We facilitate half-day and full-day coaching sessions that enable team members to recognise the skills of others and how to leverage individual strengths for the benefit of the team. Our sessions are designed to address organisational areas in need of improvement, such as team communication, problem solving and more.
Learn more about our team coaching
Organisational Development
Culture and climate of an organisation are the natural forces that impact upon employee satisfaction, wellbeing, and productivity. Understanding the culture allows leaders to find approaches to continue to improve and build on the existing culture, or to have information they can use to lead the organisation through change and uncertainty. People Solutions assist organisations by identifying measurable, tangible, and proactive variables as well as practical implementation actions that can impact positively on the organisational culture.
Learn more about our organisational development
Related White Paper: Leadership 2025
Our world is constantly changing and changing faster and more often than it has ever before. Today, "Leadership" is much more than this and requires leaders to possess a wide variety of skills. Our recent research identified the drivers of change likely to impact Australian leaders and their organisations and determined the leadership skills required for organisations to thrive, versus just survive, today and into the future.