There is a lot of information around about the mental health and well-being of employees working from home during COVID-19, and the ongoing impacts of this as restrictions subside in Australia.
People Solutions decided to explore this directly by gauging what employees were really thinking and feeling during this time. Working with Cited we developed a brief 'pulse survey' asking employees about their current levels of stress, engagement, and feelings of support in the ISO world.
The results from 123 respondents, from a range of different industries and states across Australia, are summarised in the infographic below.
The results were both expected and a little surprising. Some key highlights:
Stress levels of employees did increase during the height of COVID-19 in Australia, and to be expected the sources of this stress was social isolation and employment security (or lack thereof).
When we asked questions around factors related to engagement and productivity with work, most felt the same, and if not, were more engaged and focussed. The majority of employees also found the same or higher levels of meaning in their work, and the ability to  collaborate with peers.
Most respondents felt they were able to reach out to team members and their manager.. They felt they were able to talk to their leaders, direct manager, and team member about their wellbeing.
Many employees felt their organisation were not glossing over the impacts of COVID-19 on employees.
Employees were optimistic, could work through setbacks, and find positives despite the situation.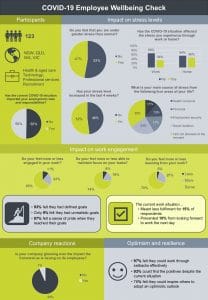 So, what does it all mean?
While this survey is a snapshot of employees, a small sample size, and a cohort who were able to work from home and have flexibility in their work during COVID-19, there are many positives to take away from the results.
We see while some employees felt increased levels of stress, whether related to work or home (or both!), there were many factors employees could see were in place to reduce the negative impacts of stress. These included organisations (and their leaders) acknowledgement of the challenges COVID-19 created, support, opportunities to collaborate and connect, and multiple avenues to reach out and ask for help when needed.
As the survey highlights, we need to take the positives and the learnings from this time into the future, to ensure our employees continue to feel engaged, focussed, aligned to, and contribute to the meaning of their work and organisation.